For the love of Music and Films!
an Audio and Video Enthusiast' Webpage
---

---
JUL2004: Time to split my site to Audio and HT
My Audio Gear
Site updated on 23JUL2004
---
Aspen KitSet Amplifier a.k.a AKSA

From the land down under, ASPEN AMPLIFIERS P/L are suppliers of revolutionary audiophile-grade kitsets.
The source of the AKSA power amplifier and complementary products.
The AKSA family of amplifiers use solid state sophistication and efficiency to produce stunning vacuum tube audio quality.
Aspen Amplifiers offers a rare high end sound at an astonishing DIY price.


20JUN2003 - I ordered my kit [with Nirvana] from Mr Hugh Dean on the second week of April and I received the package after 1 month. Whew! I really thought it was lost already. Anyway, after two months, I've finally got my AKSA up and running on 15th of June. Could have not done it without Hugh's remote troubleshooting guide. A rough estimate of the total time that took me to complete the kit is 40 hours. I've posted the pics I took during the assembly process and posted them at WEBSHOT. I hope you enjoy them =)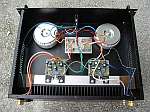 AKSA review in TNT Audio

Jul2004 - AKSA 55W upgraded with the Nirvana kit!
---

Axiom Audio M3Ti

Please do read the review. I own them and IMHO, it is an honest opinion of an honest reviewer who just wants to share an info on affordable highend speakers like the M3Ti.
My own experience says that the M3Tis are best used with tube amps [or tube sounding amps for that matter - see my review on AKSA55N]. With solid state gear, they will sound bright and forward. But with tube amps, they have a liquid midrange and splashy treble. The only caveat here would be the bass of tube amps which is generally not as defined, solid and punchy like "solid state bass". With the AKSA, I had to tame the bass of the M3Tis by putting a piece of foam on the ports but not completely blocking them. I now seldom listen to my system with the REL Quake. The AKSA55N really improved the M3Tis bass.
---

NSM Model 5 SE


Few people have heard of NSM Audio and their sister companies Role Audio and Master Source Audio. I own NSM's Model5se and I'm really impressed with these minimonitors. They are small but the sound they produce will make you blink. Its quite unbelievable how these minimonitors could output a very decent and involving upperbass. The midrange is very natural with an extended treble. It has a very good imaging and soundstage. This minimonitors will make you think again when buying speakers in the USD1000 range. Go read a very good review at Soundstage. Also look at an almost identical minimonitors from NSM's sister company - Role Audio's Kayak which was compared against the classic Spendor LS 3/5a priced at USD1500.
The NSM Model5se when used with a very musical sub like the REL Quake is a very formidable stereo setup that will brings highend sound to my room.
---
These are the latest addition to my toys! =)

DDDAC1543, a filterless, non oversampling, re-clocking DAC.
click on the pic.

Everyone who frequents AudioAsylum would definitely be aware of this dvd player - the Toshiba SD3950! It made a lot of buzz in the forum so please visit the forum now :)

The new Headsave Classic is a versatile, dedicated home headphone amp. It's the latest from Norm, and Norm's a great guy to deal with :)
The DDDAC1543 is a kit available from Doede Douma from Germany. There are people who have already built them based on Doede's design - like Peter Burke. I ordered the kit after exchanging an email with him :P Can't wait to hear analog sounding cds. Haha.
The Toshiba SD3950 dvd player in its stock form is said to be a very good cd player. Modified with Vinnie or Svenson mods and the performance is elevated to great heights competing with SACD sound. That's according to those who did it already ;) Anyway, I need to upgrade my current Pioneer dvd player to something with a progressive scan and the Tosh3950 is a very good candidate so I ordered it as well. For USD60, where can I go wrong? Hehe.
The Headsave's Classic is available from Norm's Headsave site. Norm's products are well respected in headphone forums/sites.
Update [Sep2004]: Got the stuff from my bro last month.
Update [Oct2004]: The dddac1543 is now in its case and is working great! here are some building pics
Toshiba SD3950: straight from the box, it is better than my Pioneer DV533K! Plus I might not be doing the mods anymore as John Swenson suggested proper warm-up period will bring out the magic from the player =) Minimum break-in period is said to be at 20hours. Great News! for those looking for a region free hack for this player. Just search the Net for the sd220e hack [filename is sd220e.rar] and burn it using Nero! I tried it and it worked on my player. Or you can e-mail me if you want the file.
Headsave Classic: under break-in period. Great bass control and the overall sound is very involving so far.
---

Pioneer DV533K DVD Player
DTS rules!

GRADO SR-80
Headphones


Onkyo TX-DS494
5.1 A/V Amplification
The rest of my old stuff

Yamaha AX-570 Stereo Amplifier

Sharp XV-370p
LCD Projector

Yamaha KP-300
Karaoke Processor =P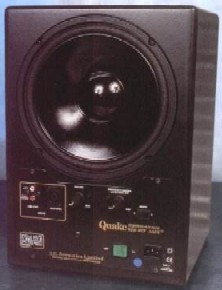 REL Acoustics Quake
Subwoofer
photos borrowed from various websites
---

cd collection

---
---
TIPS ON SPENDING ON AUDIO GEAR
- settle for the gear that satisfies both your ears and budget!
- spend on the gear that performs best in your price range! a gear that has a double price compared to another does not mean it will perform twice better.
- if you can not hear the difference between an expensive and a more affordable gear, always go for the cheaper one. don't be a victim of 'hallucination'. make sure that you take note of the gear that are being used during a demo because diff electronics will produce diff 'sound'.
- read respected magazines and online reviews first. do not waste time on auditioning inferior products.


click on image to see some magazines you can check
---
---
AMBISONIC
One of my favorite CD is
COWBOY JUNKIES' The Trinity Session
which was recorded using the Ambisonic format with the
Calrec Ambisonic Mic
. It was 'captured live at the Church of the Holy Trinity in Toronto, Canada on 27NOV87'. I really wish record companies produce more albums with this wonderful sounding technology! In Trinity Session's first track -
Mining For Gold
, you could actually sense the atmosphere in the church - which gives you an idea of its size - and the 'air' actually feels like pressing on your ears. Great vocals from Ms Margo Timmins, great accompaniment, great music and a great recording for a GREAT ALBUM =)
---
AMBIOPHONICS
Discovered about Ambiophonics while searching for stuff related to Ambisonic and Binaural recordings. Ambiophonics is an 'unconventional' way of setting up the stereo configuration to eliminate CROSS TALK basically from the LEFT and RIGHT speakers. I have tried this with my 2.1 Altec Lansing AVS300 that I am using in the office and it really works... but be cautious coz your officemates might think you're out of your mind when they see you experimenting with your speakers =P As I have said, it's unconventional.
Please do read more about it
. You'll experience a more realistic reproduction of recorded music.
Here's another link about
Ambiophonics on a Budget
(PC related) - by MUDDLE.
---
---

HD-DVD: ONE FORMAT ONLY!

An excerpt from the site which I believe should be supported by audio and video enthusiasts around the world: The purpose of the HD-DVD: One Format Only! Campaign is to convey what we believe is a very important message, on behalf of DVD consumers everywhere, to the Hollywood movie studios, the consumer electronics manufacturers and all the members of the DVD Forum. That message is simple: We believe that in order for any high-definition video disc format to be successful, all of the various parties involved MUST agree upon a SINGLE, unified format before making any such format available to consumers.
---

DIGITAL DATA VHS or D-VHS
I was very surprised when I got the April issue of WidescreenReview. I never knew about it until when I read in that issue that there are already available movies for D-VHS! The specs for the D-VHS is mind blowing that even the best DVD can't match. I really should subscribe to WidescreenReview again! =) For a some quick info, D-VHS is the high definition medium for digital recording and playback (think HDTV!). It is backward compatible so you could still play your S-VHS and VHS tapes with a D-VHS player. For copy protection issues, D-VHS movies will be released by major film industries under the D-Theater security platform so that only D-Theater D-VHS players can play them. Check out some of the D-VHS players in
JVC's homepage
, the creator of VHS.
I wish I can visit WSR's Holosonic Reference Theater in CA and have a look at their D-VHS setup =) In the meantime, got to enjoy what DVD can offer (sigh).
FEB2003 - Finally, my firsthand experience with HD broadcast and D-VHS during our US visit is truly memorable and remarkable! DVD on a progressive display doesn't even come close!
---

SURROUND SETUP

Regarding Home Theater setup, I personally believe that it is best that you use same BRAND/MODEL of speakers for LCR and Rear speakers. Installing a center channel speaker in a DPL mode is very sensitive as I've explained above. it is true that a center channel can pin the dialogues in the center for viewers who are sitting off center. However, I would like to lay down another opinion of mine regarding this famous center channel. I've always believe that your EYES can lead yourself to believe that dialogues are coming from the screen if you are really hooked with what you are watching. You can experience this if you are 'WATCHING' a movie and not 'CRITICIZING' the setup. Even poor headphones can get you hooked into believing what you see/hear in the screen if themovie is very good. I experienced this when i saw CRIMSON TIDE in an in-flight entertainment. So, try to think about the center channel before adding it to your setup. This is something that can come last if your budget is tight.
---
CIRCLE SURROUND
I am very much interested with CIRCLE SURROUND but really had not the chance to listen to it personally. This is one surround format which really is PRO consumer - though the gadget PRICE is another story. Circlesurround is said to be able to deliver an enveloping sound competitive to existing discrete digital surround format (yes, DTS and DD!). Some said that it is even better than digital! The best thing is that CS is fully compatible with existing stereo sources and can still provide a wonderful 'discrete' surround sound! Moreover, an existing audio CD that is CS decoded sound great with Chase HTS-1. I can really hear the potential with this format. there were some reviews in stereophile, audio and stereo review and they are all 'positive'and 'promising'.
check this out:
the pro logic compromise
---
SACD/DSD (Direct Stream Digital)
i've tried 2 of DMP's DSD CD and they sound GREAT! i wish i can get hold of more DSD cds this year. to find out more - click
here
. i just hope that DMP comes up with a DSD-CIRCLE SURROUND albums!
---
VCD

We buy original versions of VCDs. VCDs' video quality varies from superior-to-VHS-but-infrerior-to-LD to inferior-to-VHS-but-the-sound-is-great! Actions movies are a NO-NO to VCDs. Better not buy actions movies in VCDs or you can get your eyes strained. Cinematic movies are also out of the VCD list. Rich visual information are really hard to compress for MPEG-1. Most of our VCD titles are 'talkies' like Fools Rush In, Karate Kid, My Best Friends Wedding, Sister Act, etc...
Moreover, VCDs will last longer than VHS and the sound is great (better than VHS that is)! A lot of people here in Asia opt for VCD because it is definitely CHEAP!!! They only go for the story line anyway. The majority has no decent home theater setups and will settle for the VHS-like video and almost CD-like audio of VCD.
---

check consumers feedback about their audio gear
these could help you decide on which gear to audition
don't waste your time auditioning crap gear!


looking for an audio website? click this!
---
LINKS TO AUDIO/VIDEO SITES


Australia's Aspen Amplifiers





Canada's Axiom Audio
Affordable Speakers, Amazing Performance!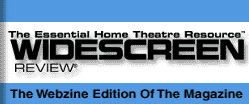 it's all about DVDs and D-VHS and the audio and video (Home Theater) industry!
now, go and check them out!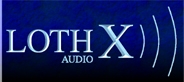 lothx is a singapore speaker company.
i have listened to their huge azimuth speakers and i was mighty impressed with the realistic sound it reproduced. it got me thinking if there were some subs in those large cabinets as i really felt the deep bass from the pipe organ reproduction. the kind owner of the shop is a hard find in high-end shops in singapore - specially in adelphi - this guy offered me a coffee w/o even knowing if i'm buying their product!
so, what are you waiting for? bring your CDs and have a listen to their wonderful set of speakers.

The Goodsound
not enough cash? well, check out this site for affordable high-end audio gear.
people who says you can't have a relatively affordable high-end set-up are SNOBS!


stuffs, FAQs and forums about the audio and video components.
post a question and get your answers from this site






stuffs about 3D sound from a pair of speakers
get to know more about TruSurround, WOW, Focus, Vip and TruBass. These are cool stuffs.


Manufacturers, Audiophile Recording Companies, Retailers, and other sites of interest!
Go and visit Audio Review's Hotlinks page!



The Letterbox and Widescreen Advocacy Page


Learn why 'widescreen'!
---
links to Movie Reviews/Info
Internet Movie Database
---


1. amps/receivers
2. spkrs used (main and rears and centers and sub)
3. cd/ld/dvd player
4. other gear (cables and gadgets and tweaks)
5. and some remarks about your system (yes, you can brag about them!)
6. the music you listen to and your favorite film(s)!
this page might be useful to those budding audiophile and HT nuts out there.
as for people who just love music and films...
any comment (about the audio/ht industry and/or abt this page) will do.



Thanks and have a nice day!
Please visit again.

---
The Audiophile Webring site is co-owned by
motets
Want to join the Audiophile Web Ring?
[Prev] [Next] [Skip] [Random] [Next5] [ListSites]
---

---
webpage born on FEB99.Site Meter installed on 30SEP02
---
Ultimate counter installed on 24JUL2002. Pls sign myguestbook and brag about your gear.
---
---
update history
2004OCT: update with dddac1543 page; add statcounter

search words : aksa nirvana axiom m3ti m2 nsm m5 model5 singapore hi-fi home theater audio video nht superzero tannoy mercury m1 m2.5 marantz vcd-500 sony mdp-a2 widescreen DSD high-end subwoofer dogears audiochat

filipino pinoy pilipino